CASE STUDY: SIGHTS & SOUNDS GAME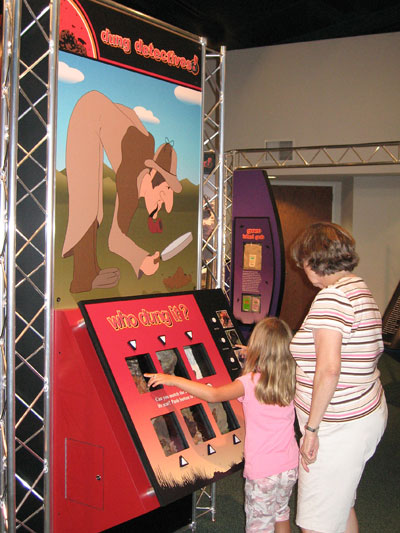 As part of "The Scoop on Poop" travelling exhibit, Peeling Productions designed "who dung it?" as an animal scat identification interactive game.
Visitors are invited to match simulated scat samples, located in 6 individual shadow boxes, to the animal responsible for each one. A correct answers are rewarded with a congratulatory message and additional facts regarding the correct answer. An incorrect guess results in an encouragement to try again with some additional hints to help find the correct answer.
Input: Six triangular and six round illuminated push buttons are used to indicate the active shadow box and to make a matching selections.
Process: SIGNAL-INNOVA's Sights & Sounds controller starts the the game play when any button is pressed; a randomly selected indicator lights near an animal scat's shadow box. When the visitor presses a button to select an answer, Sights & Sounds checks for correct match and responds accordingly. If the visitor does not finish the game, Sights & Sounds will reset the game after asking the visitor for a response.
Output: The FlashAudio repeater plays the recorded instructions, sound effects, prompts and hints at the direction of the Sights & Sounds controller. In addition to audio prompts, pushbutton lamps are illuminated to indicate the correct answer.
Once all matches are made, Sights & Sounds rewards the visitor with a congratulatory message and randomly blinks the pushbutton.